Welcome to the second edition of Rad Recommends!
With the Oscars over I come to you bearing gifts and new picks for this month.(Also, let's just take a moment to remember the   E  P  I  C   final 10 minutes… honestly, I'm still on some strange high because of that chaos.)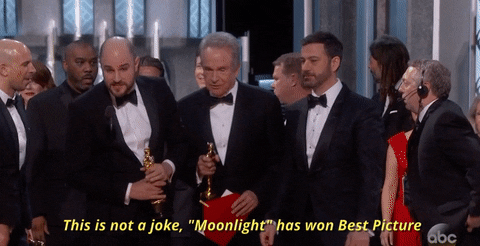 Anyways, let's jump in:
Peaky Blinders: Several months ago, while my friends and I were on a train from London to Birmingham, a guy sitting in our carriage asked us, "What brings you ladies out to Birmingham?" As we got to talking, he mentioned how the city is somewhat infamous for its past gang activity, most notably by the group called the "Peaky Blinders". Those involved had sewn in blades/razors in their peaked caps that they used (allegedly) to blind anyone who came against them. He mentioned how there was a pretty good show on the telly based on the group. At that time I had heard of the series, but never got around to watching it. Fast forward, and I've finally started and finished up on Season 1. While I will say that the "Brummie" accent featured in the show is mediocre, the story line is intriguing and gives you a pretty good look at post-WWI Britain and the industrial history of Birmingham. Definitely give this a watch if you are into gang dramas (I've read that the show is like a British version of Boardwalk Empire). Come for the Blinders' shenanigans, and stay for Cillian Murphy's solid performance as Tommy Shelby (…and his icy blue eyes are an added bonus).

(Streaming on Netflix and airs on BBC 2 in the UK). 

Chewing Gum: So I'm noticing that this might be a mini British invasion list of picks… but seriously, the UK is putting out some really interesting shows/movies and actors into the world, and this show, without a doubt, is pure British wit and humor. Enough of the period dramas, and welcome to new and fresh comedy. Michaela Coel (BAFTA winner) presents topics in this show are not always seen on television, and though a tad raunchy, I seriously enjoyed the slapstick comedy and the how the series does not focus on the lives of the "posh elite" (as with most British shows), but rather those living in the council estates (essentially public housing for those not familiar with the term). Season 2 recently aired in the UK, but has yet to reach the US. So, if you are in search of a quick and cheeky binge, this should be at the top of your list as there are only 6 episodes in each season.

(Streaming on Netflix and airs on Channel 4 in the UK).

The Lobster:

 I am still upset that Manchester by the Sea won the Oscar for Original Screenplay… but this will not stop me from recommending The Lobster. For all those who are into relatively dark comedies/dystopian dramas that give commentary on society this is everything your heart is looking for. Essentially, the premise of the movie revolves on the fact that in the world of the movie, single people must find a partner to fall in love with or risk being turned into an animal of their choosing. I do not want to give away too much, but if you can make it through the slightly discomforting moments in the beginning, I promise this is a film that will give you a lot to think about in the end.

(Streaming on Amazon Prime). 

Slide (Calvin Harris featuring Migos & Frank Ocean): If I haven't said it before, post-Taylor Calvin Harris is my favorite Calvin Harris. Ever since his collab with John Newman on Olé, I was eagerly waiting for more music from him. As Calvin promised, "only good vibes this year" and this song definitely delivers.
That's all for now, kids! Stay tuned for more recommends!